Adventures in brioche
So I've finished mountains of things, all of them gifts, all of them at the last minute, and none of them photographed...
...except this one: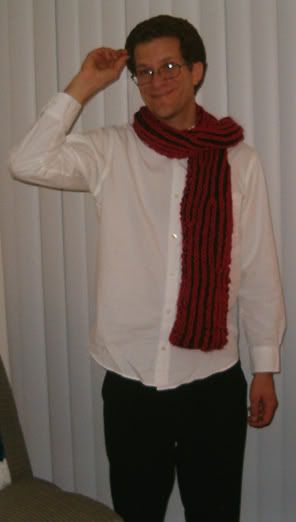 I decided I wanted to learn to do two-color brioche stitch, so I dug into a back issue of Interweave Knits (Winter 2005). My goal was to make a reversible scarf, as the alternative is constant fiddling to make sure the scarf's (ahem) back side isn't hanging out for all the world to see. Unfortunately, I discovered that the instructions, while very spiffy and easy to follow, were based on instructions for a two-color
sweater
and thus, not reversible. Observe:
Smooth decrease on the right side: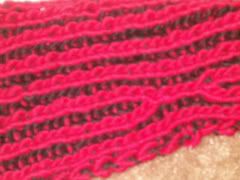 Nasty decrease on the wrong side: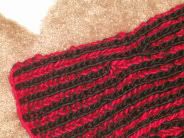 Well. We weren't going to have any of
that
.
So, I did some finagling, involving alternately 1)a safety pin in a CC stitch hanging out in mid-air on row one of the three-row decrease to be picked up on the next row or 2)when I was lazy, undoing a decrease stitch on row two of the three-row decrease, releasing the trapped CC stitch from its shackles, and putting the MC and yarnover back together.
Aha! Success!
Right side: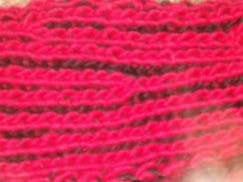 Wrong side: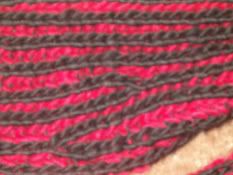 Tada! Reversible two-color brioche.
I am certain someone has already invented it with 1)a better method and 2)more detailed instructions, so now I am on a quest to find it so I can better explain the process to the other people at the yarn shop who were mildly fascinated.
In the meantime, though, I have a modest feeling of accomplishment after engineering a better stitch than the one I was given. I also have a shiny red and black reversible scarf in Lamb's Pride Bulky (ignore the tuft of Jo-hair hanging in front of the lens next to the mo-hair, ha ha):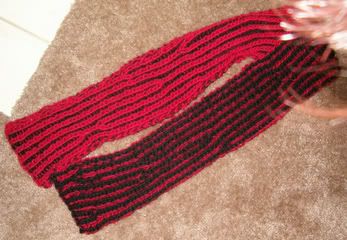 ... AND I have an extremely cute scarf model who was nice enough to humor me when I decided to chase him with the camera at 1 a.m.: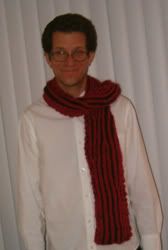 I think that means I win.