Chimpanzee does the dancy-dance
Oh, look, Jo made another Barbara Walker stitch sampler baby blanket that's impossible to photograph from any angle that does the little textured house and windmill bits justice: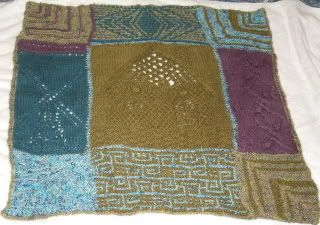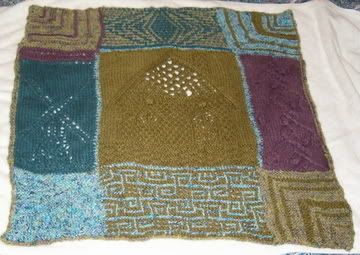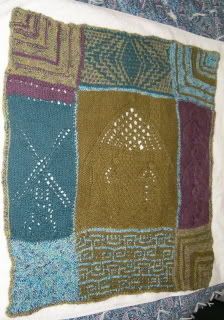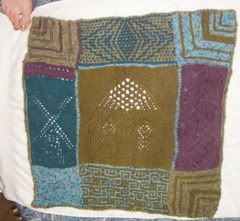 ri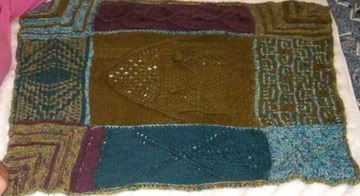 And, because The Spouse insisted, a picture of me trying to look sexy while simultaneously attempting to hide my gut: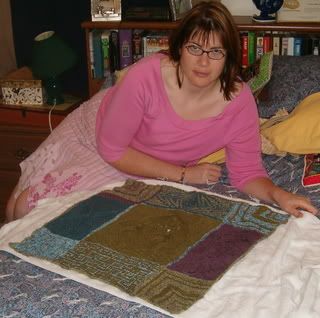 I'm not actually holding up the blanket because, as a knitting pal pointed out this evening when I finished weaving in ends, those bobbles over the door and window are strategically placed on one's chest when one holds up house-shaped block in front of one's torso. My friend did not actually say anything, mind. She just waited until the admirer had walked away from the table, took the blanket from me, held it in front of her own torso, and snickered. Point taken. Er... Um... anyway. I'm posing next to the blanket in the above photo, not behind it, and you're welcome.
Dunno if it comes out, but the house is a pretty neat trick. I'm saving the castle from the same book for a soon-to-be-spawned second cousin, whom if I'm lucky will be born on my birthday.
In other news, I might (maybe?) get to teach a socks class in the fall. So now I'm daydreaming up the most gorgeous pair of socks I can imagine simply for show-off purposes. I'll keep the pattern to myself a)because I want to inspire theoretical and potential students to Think and b)y'all know I'm too lazy to actually
write any of my patterns down
.
In other OTHER news, Baby A for which the turtle blanket was knit has entered the world with black hair and blonde eyebrows. I can't wait to actually meet the little bugger. I think I've managed to beat Baby B (gingerbread house blanket) into the world by a couple of weeks.
P.S. - the title of this entry is from a dream I had last night about two of my friends showing me an imaginary YouTube video and singing along with it.